Protect your child's eyes without compromising their vision. Find out how to find the best prescription sports glasses for kids with this helpful guide. Whether your child is involved in sports activities or just enjoying outdoor play, here are some key features for selecting the best safe eyeglasses for kids. Compare sport eyeglasses, prescription eyeglasses and sunglasses today.
Select Safety Lenses
Polycarbonate lenses are an essential design feature. These lenses are shatterproof, so you won't have to worry about eye injury due to broken glasses. They are also more durable than regular plastic, so they can hold up to daily wear for your active little one.
Choose polycarbonate lenses that are scratch resistant and UV blocking. Scratch resistance improves the lifetime of your child's glasses, while UV protection prevents eye damage from exposure to the sun's rays. These lenses aren't scratch proof, but are significantly less likely to be scratched than glass or traditional plastic lenses.
Safety lenses can include side shields or can look exactly like everyday glasses. Look for eyeglasses that feature stylish frames or practical sports goggle designs. Explore prescription and sun protection options to keep your child safe and comfortable wherever they play.
Compare Frame Options
Frames for kids should be comfortable and stylish, but they also need to be durable enough for an active child. Thankfully, there are many prescription sports glasses for kids available online to choose the best frames for your child's particular interests and activities.
Look for goggles or safety glasses if your child will be playing sports. Side shields and extra-thick polycarbonate lenses prevent injury or damaged glasses when playing basketball, tennis, baseball or other sports.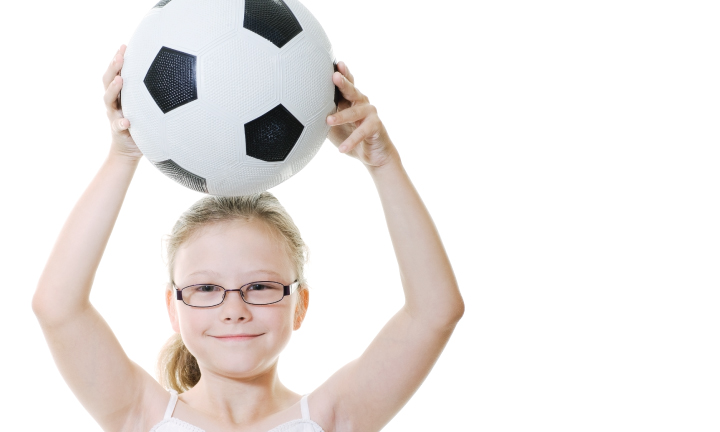 Kids' frames come in a range of sizes and colors, so you can match the best frames with your child's age and personality. Safe eyeglasses don't need to include a prescription. Select non-prescription lenses so any child can enjoy eye protection while playing sports or doing other activities.
Goggles are adjustable and grow with your child. A soft, secure strap prevents eyeglasses from falling off while your child is running and playing a competitive sport. These secure lenses are ideal for children who often drop their glasses or need additional assistance keeping them on.
Consider Sunglasses
Clear polycarbonate lenses often have UV protection, but your child can enjoy even more protection from the sun with sunglasses. Prescription sunglasses prevent between 99% and 100% of UVA and UVB rays without affecting clarity of vision.
Even children as young as six months should be wearing sunglasses outside. Over time, sunlight can cause macular degeneration and cataracts. A lifetime of UV ray protection can dramatically limit the risk of these conditions. Sunglasses come in a range of lens colors, so consider the best option for your child's activity level.
Prescription Sports Glasses for Kids
Turn to Safety Gear Pro for your next pair of prescription safety glasses. Shop for children's eyeglasses and safety glasses for the whole family. Enjoy a wide range of affordable, protective and highly rated eyeglasses to prepare for any adventure. Shop for sports sunglasses for the whole family today.