Have you ever felt like smashing your laptop into a pulp because you couldn't fix a silly issue, and there was no one around to help you? Did you almost talk yourself out of throwing your phone against a wall because you couldn't understand a single word of what your troubleshooter said over the phone? Have you missed an important deadline because your laptop was suddenly acting up and you couldn't afford the time to take it to a repair shop? Well, we have all been there once. Distance does become a problem in such issues, and the dreaded Covid-19 makes it even more difficult.
Thank heavens (and the human brain), Remote Desktop Sharing, commonly known as Screen sharing, was invented, which helps eliminate the issues that pop up due to the distance factor. You can now share your Mac screen with your tech-geek friend who will help you resolve your Macbook issue within minutes using screencast easily with these software and your laptop and phone won't get reduced to a pulp!
Although there are a few things, you should keep in mind before looking for a Screen sharing app or software.
It should be available for the version of OS on your laptop. It should fit into your system and should work just fine.
It should be easy to use. Otherwise, the purpose of solving our issues is defeated if we first have to enroll ourselves in a course on how to use it.
Without further ado, let us discuss the top 5 Screen sharing apps for Mac:
1. Zoom
Zoom has become very popular these days in terms of group video calls. You can see people sharing the screenshots of their zoom calls with their friends on various social media platforms.
What many of us don't know is that it allows you to share your screen as well. It can host up to 100 participants, allows unlimited one on one meeting, and also lets you save a recording of your calls. Moreover, it will enable multiple participants to share their screens simultaneously, a feature that other screen sharing apps don't boast. Plus, it's FREE. Okay, it does have paid versions, which include advanced features like calls lasting longer than 40 minutes, but the free version is better than any screen sharing app out there.
2. TeamViewer
It is one of the most used and easy to use screen sharing software. Just share the generated ID and password on your screen, and you are good to go. Available for almost all platforms, it is fairly easy to use as well. It is the worldwide customer-support software used as it lets you walk into your customer's system and fix issues.
It has other great features, like File sharing and Remote printing. What's more, it allows Cross-Platform Access, meaning you can use it on your mobile phone to access your desktop and vice versa. Last but not least, it is absolutely FREE!
3. Skype
A lot of people know that apart from audio and video calls, Skype lets you share your screen as well. For those of you who have used Skype or Skype for Business, you might complain of poor call quality and the not-so-great user experience. Nonetheless, most tech-giants use Skype for Business as day-to-day instant messaging and calling software.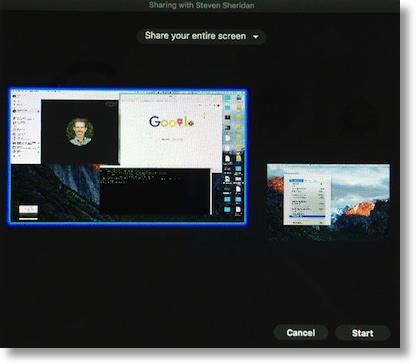 Since many people are familiar with Skype, an easy-to-use prerequisite is not an issue. To share your screen with someone, you should connect with them on audio or video calls first. And it's free too unless you need to call a mobile phone or a landline, then you'll have to pay for Office 365.
4. Google Hangouts
Yes, it does allow you to share your screen apart from the instant messaging and video calling feature. It is fairly easy to use and free of cost as well. All you need is a Google account, and you are good to go! It lets you share your screen while you are on a video call and allows up to 10 people to connect simultaneously.
The cons are that it does not have a lot of features to boast. But if you don't need anything extravagant and don't want to spend a penny, then Google Hangouts is your go-to.
5. Mac to Mac Screen sharing
If both you and the other person own a Mac, then Mac to Mac screen sharing is the simplest option there is. All you have to do is Menu > System Preferences > Sharing > Screen sharing. Now you can connect via name or via address. Enter your credentials, and you are ready to go.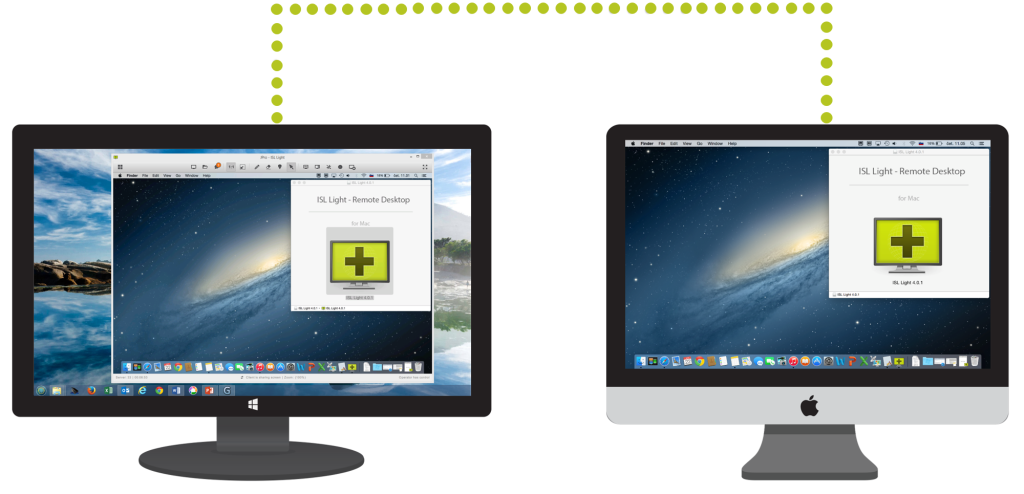 Some other features include file sharing, sharing Clipboard contents, toggling between Adaptive and Full Quality depending on the quality of the network. The only downside to this is that you cannot share your screen with a non-Mac user.
The upside here is that all these screen sharing apps are free of cost. Happy Screen-sharing!