Are you having a small, intimate outdoor wedding ceremony and reception? If so, you may want to consider planning a backyard wedding. It's the perfect setting for couples who want to cut down on costs, but don't want to sacrifice on style and ambiance. There are a few extra details you have to consider – like deciding on a dress code and looking into what shapewear to wear under your wedding dress – but we're here to help. Here are 7 important tips to keep in mind when you start planning your backyard wedding.
1. Take into account the time of year you are getting married
When you start brainstorming the set up for your ceremony, remember what spaces in the backyard are in the sun and which are in shade. You will want guests seated in shaded areas when marrying in warmer months, and in the sun in cooler weather.
2. Create a "mock" timeline for the big day
This should include everything from breakfast and bridal party makeup to the ceremony start time and when dinner will be served. Since the ceremony and reception will be taking place at the same place, make sure there is no downtime.
If you are taking photos after the ceremony, plan some activities for guests to partake in before the party starts. A fun photo area with a beautiful backdrop or lawn games are two great suggestions.
3. Consider hiring a wedding planner
Most brides who book a wedding at a traditional reception hall have a person from that venue who helps them with all of the logistics of the wedding. Since you won't have this person on hand, it is a good idea to hire a wedding planner, who can help with everything from inquiring about town permits and street parking, renting a generator to accommodate the extra power that will be needed, clean-up after the event, and so much more.
4. Keep neighbors in mind
If you're lucky, you're very friendly with your neighbors and will be inviting them to the wedding (This is usually true if you are getting married in our own backyard, or if it takes place in the bride or groom's parents' backyard). If this is not the case, please keep close neighbors in mind when deciding on when to end the reception.
You may want to party into the wee hours of the night, but that's not being considerate of other people in the neighborhood. You can always host an after-party at another venue, like a nearby bar.
5. Do not forget about the restrooms
Unless you're getting married on a large multi-million-dollar estate, you may only have two or three bathrooms to accommodate guests. This may work if your guest list is really small, but if not, consider portable toilet trailers to help with the extra need for restrooms. There are upscale options available, so you don't have to worry about them being an eyesore.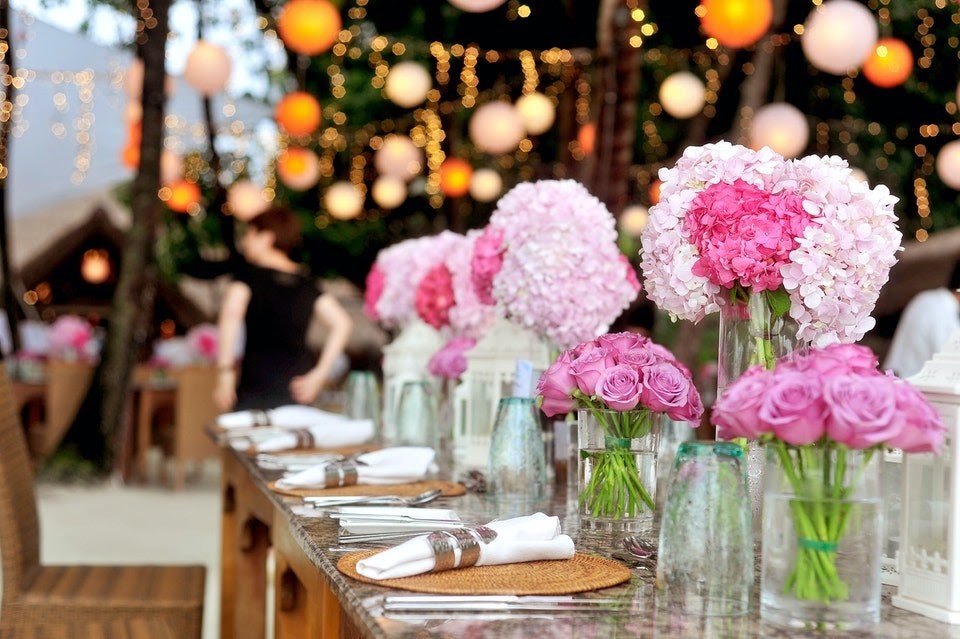 6. Buy extra insurance
It's better to be safe than sorry. Have the backyard owners contact their homeowner's insurance and explain the details of the event and find out what is covered on their plan. Your wedding vendors should have insurance too, so call them to find out what is covered on their end.
You may have adequate coverage, but purchasing some additional supplemental insurance might give you peace of mind during the day of the wedding.
7. Make sure you have a Plan B
Whenever you host an event outdoors, you take a chance on the weather not cooperating. If the house is large enough, make plans for setup inside in case it's needed. But if you want to keep the wedding outside, put a deposit on a large party tent (that has covered sides to protect against the elements) that could be picked up the day of the event if you need to enact Plan B. And don't forget to have fans or heaters available in the tent (depending on the month of your wedding).