Golf is a popular sport in both civilian circles and celebrity circles. It's no surprise that celebs love getting out on the golf course—it's fresh, beautiful, and away from the hustle and bustle of Hollywood life.
If you're a golf lover, you may be surprised to know which celebrities love the sport as much as you do! Meet these famous celebrities who are golf lovers and are often found hitting golf balls on the driving range or course.
Drake
Drake is an influential figure in the musical world, particularly in R&B and hip-hop. He's still on a roll, beginning last year with a Nike collaboration and most recently, breaking the Beatles' record for most songs to reach the top five on the chart (Drake just hit 30).
Did you know that Drake is also a keen golfer? In fact, part of his Nocta Nike collection is golf-specific, with pro golfer Brooks Koepka wearing it during a Championship tournament.
Aside from his foray into golf apparel, Drake names his uncle, Stephen Sher, as his golfing mentor. His home club is King Valley Golf Club, just outside Toronto, but he's also been known to enjoy a bit of TopGolf!
Rafael Nadal
Rafa is obviously known for his tennis skills, but he's also surprisingly invested in golf as a sport. Although he obviously spends time in the gym (have you seen those arms?), he's admitted that he's "not really a gym guy", but does play some golf.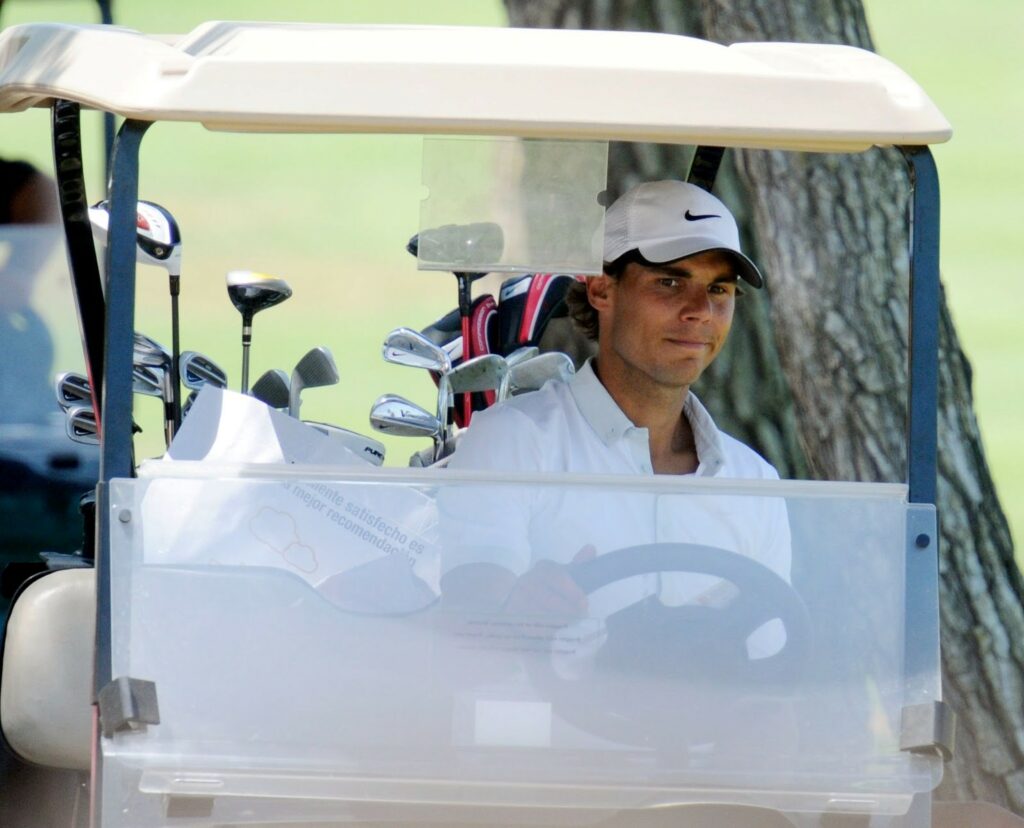 "Some golf" is a bit of an understatement. You may be interested to learn that Nadal sports a handicap of +0.3, which makes him practically a pro. When he's not playing tennis or practicing golf, he enjoys taking part in golf championships, and he looks almost as at home on the course as he does on the court.
ScHoolboy Q
ScHoolboy Q hasn't released a new album in a few years but he's been known to get inspiration and come up with new lyrics on the golf course. He didn't always love the sport, though. Rather, he became a golfer by chance after taking a friend up on a challenge to go from zero to birdie in 2 years.
With a bet prize of $10k, Q wasn't about to pass up the opportunity! He threw himself into the sport, cashing in within 10 rounds and falling in love with golf along the way. ScHoolboy Q splits his time between his musical career and helping to raise his two daughters, but he makes sure to find time for a round of golf regularly.
It's not just about fun and challenge, though. Q believes that golf has taught him patience and helped him to cultivate and maintain a positive mindset. He also took some time to do a quick golf-related ad for Nike!
Justin Bieber
Although Justin Bieber has been quiet for the last while, the pop star has always been into golf. He's hung out with golfing greats like the Bryan Bros and Bubba Watson, practicing, having fun, and joking around with them on the course.
In fact, Bieber and Watson have been friends for many years. Both committed Christians, Watson has acted as a mentor to Bieber on many occasions throughout their friendship.
He also shot a music video on a golf course in Miami with DJ Khaled, although golfing fans had mixed reactions about his attire and the fact that he was driving with an iconic 2007 TaylorMade Burner driver!
Justin Timberlake
Justin Timberlake is actually one of the more golf-obsessed celebrities. Way back in the early 2000s, he became the host of the PGA Tour's Las Vegas tournament. In 2012, he parted ways with the organization but he's never lost his love for the game.
These days, Timberlake is working with 8 AM Golf on a variety of projects. The company, which owns golf.com and a range of other golf brands, hosted the 2022 8 AM Golf Invitational hosted by JT, who hand-picked 19 celebrity buddies to join him on the course, including Jimmy Fallon and ScHoolboy Q.
With a single-figure handicap—around 4—he's almost as skilled at golf as he is at singing! He also once owned the golf course he learned to play on but sold it a few years after he bought it. There's no denying JT is passionate about golf!
Darius Rucker
Yet another musician gracing our list, Darius Rucker plays to a handicap of 4. The former Hootie & the Blowfish lead vocalist (now an acclaimed country singer) tours the country often for his music but makes sure to play a round of golf whenever he gets a chance.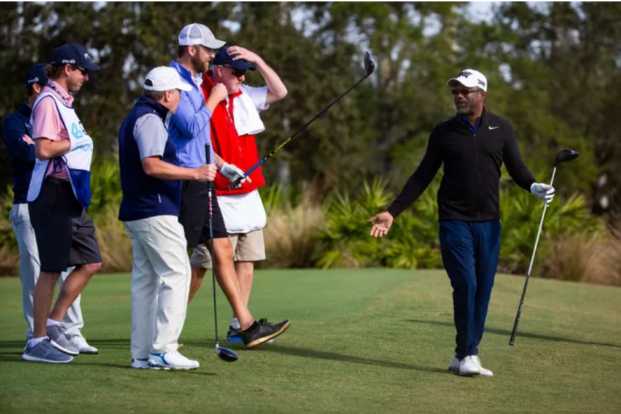 Golf is a huge part of Rucker's life. He became a partner of MGC Sports in 2016, an agency representing golfers, reducing his musical commitments to work with them. The gruff-voiced singer has also been friends with Tiger Woods since Woods was 18, even singing at his wedding!
He and his fellow Hootie & the Blowfish members are also founding members of Bulls Bay Golf Club, a private club in Awendaw, South Carolina.
The golf world loves him back, though. Rucker was a special guest of the US team at the 2016 Ryder Cup, attended Arnold Palmer's funeral, and has a women's college golf tournament named after him, the Darius Rucker Intercollegiate.
Conclusion
One of the best things about golf is that it's accessible to everyone, of any skill, in almost any place in the world. It's a gentleman and gentlewoman's game, and there's nothing quite like being surrounded by beautiful scenery while getting a bit of fresh air and exercise.
Celebrities of all kinds enjoy spending time on the golf course when they're not working. These are by no means all the celebs who love hitting golf balls in their spare time. If you're looking for some motivation to get on the driving range or hit the course, the joy with which these celebs play the game is inspiring!
Jordan Fuller has been playing golf since he was a kid, and he's retired now! When he's not hitting golf balls leisurely or mentoring other golfers, he's researching and writing for his own website, Golf Influence.