Remote workers have now become one of the major contributors to the global workforce. 36 percent of professionals in the USA are now freelancing in some or the other capacity. Independence of doing what you want to do and as per your own convenience are some of the biggest reasons fuelling the growth of the gig economy. It is worth mentioning that technology is also playing a big role in connecting the global workforce to employers from all over the world.
Work from home is the new normal and professionals of the future will be handling multiple jobs for different businesses. The rise of online aggregators in different sectors including healthcare, tourism, hospitality, and others is fueling the growth at a rapid pace.
Traditional ways will not work anymore
Businesses are now augmenting their operations by hiring a mix of regular and freelance employees. However, to meet compliance and data security standards, it is essential to hire reliable freelancers with verified background checks.
Traditionally the hiring process of freelancers has been very simple and short. In fact, the majority of the organizations do not have documented policy in place to hire a freelancer. But as the volume of hiring freelancers is increasing on an year on year basis, organizations can afford to skip a robust background check of freelance employees anymore.
Challenges Faced By Traditional Background Verification
Even if you decide to conduct background verification of every freelancer that you hire, there are several challenges that come embedded with the traditional background verification process. Absence of credible data, geographical constraints, fraud, and other aspects cripple the authenticity of traditional processes.
There are several times where the data of freelancers is inaccessible at a particular point in time, delaying the entire process. Needless to say, large businesses are spending millions of dollars on this elaborate process to meet security standards. However, splurging such a large amount of budget on an employee background verification is not possible for small businesses and startups. As a result, they are cutting corners by not following the due process or even not doing the background check altogether.
How Blockchain-Enabled Employee Verification Can Help Businesses?
Organizations normally conduct 2-3 employee background checks and the entire process takes weeks to complete. As a result, onboarding of employees is delayed which might directly impact the revenue stream.
What is blockchain employee verification?
Blockchain is a distributed ledger that is used to store large bulks of data in blocks. These blocks are interconnected without a centralized administrator. All the nodes of blockchain verify every addition to the system.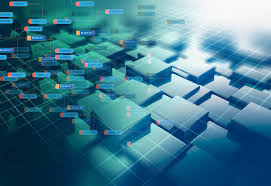 On a blockchain-enabled system, you can easily save your resume with all the qualification and professional experience as an individual block. Once the data is saved, nobody can alter it. HR can validate the data online as all the data is already verified from the issuing authorities like colleges, universities, and previous employers among others. While checking the background of an employee, you are not required to reveal your personal or professional information. Hence, the process is highly secure and unbiased.
Blockchain-backed employee background checks can reduce the hassle of hiring managers and solve the issues of resource crunch.
Simplified hiring process
Here is how a distributed blockchain-enabled freelance employee background check can help to address several issues.
Access verified and reliable data at a faster pace
Eliminate the need for third-party services for background check
Verify employees even if their last employer has shut business
Ensure verification without human contact
The mainstream application of blockchain technology in the verification process will help employers to easily hire reliable candidates at a faster pace cost-efficiently.
Benefits for freelancers
Freelance communities often suffer from the credibility crisis due to a few fraudulent incidents. Blockchain-enabled background check process will help freelance professionals to save their education and work documents in a reliable manner, securely,
Here are some of the other benefits:
Employers can easily weed out ineligible candidates ensuring deserving professionals get the opportunity
Freelancer can easily pursue clients with credible proof of their qualification and experience
Easily create trust and cultivate long-term  professional relationships
Become more hireable on online freelance portals and attract inquiries
Conclusion
With businesses adapting to digital transformation initiatives, the culture of remote work will thrive more in the upcoming years. The trend of working what you love will encourage more people to work in a gig economy. Leveraging blockchain-enabled employee background verification solutions at scale can ensure both freelancers and employers to work in a safe and secure environment efficiently.
Salman Zafar is an acclaimed blogger, editor, publisher and digital marketer. He is the founder of Blogging Hub, a digital publishing portal with wide following across the world.